October 20th, 2017
POV Pool Headquarters – Los Angeles, CA
By: Daniel Busch
So, you've made all the stripes on the table and you're left with the 8…
Well, POV Pool will be left with an '8' at the end of 2017. But, before we get there, we've got patterns to play, a cue-ball to control and even more balls to sink. So, here's our list of events streaming live on POV Pool as we get closer to hill for the end of this year. Save the dates, tell a friend and 'Keep Loving Pool'!
On these events we'd like to give a 'Special Thanks' to, OB Cues, Jerry Oliver Custom Cues, Bryant Billiards, Red Tree Jewelry, Outsville Inc., John and Karen Barton of JB Cases, Tiger Products, IV Organics, The Texas ACS League, Janet Ybarra, Chris Swart, Heriberto Arreguin, Tom Wirth, Ray and Janette Cruz, Mark Cantrill, Dave Hemmah, Shirell Ivey, Joey Chin, Frank Almanza, Al Moreno and Tony Torres; and to all of you who play and participate (too many to name).
October 26th-29th • The Texas ACS 8 Ball State Championships!

On October 26nd-29th, POV Pool is off to The Lone Star State; working with the Texas American Cue Sports Alliance to provide live streamed coverage from Belton, of the Texas ACS, 8 Ball State Championships, consisting of a series of back to back competitions. Covering the men's singles, women's singles, mixed teams, women's teams and scotch doubles competitions, we invite you to join us live for the action with a rotation of guest commentators, live bracket updates and other ACS related news and announcements. Added money and live streaming services are made possible in part by OB Cues, Jerry Olivier Custom Cues, Bryant Billiards and Red Tree Jewelry.
November 4th-5th • Hard Times Billiards 1st Weekend!
This November, our return home to Hard Times Billiards, Bellflower will be a little different. Yes, of course the Hard Times '1st weekend tournaments; One-Pocket Saturday and 9-Ball Sunday, will be streaming live on our YouTube Channel and, to sweeten the pot this month, POV Pool will hold a small raffle of various accessories from Tiger Products and Outsville Inc., bringing some Accu Racks and Great White Chalk! We will also be giving away Scott Frost and Mika Immonen DVD's and a couple of posters from the 2016 West Coast Swing events and a very special gift from Tom Wirth; his book entitled "One Pocket: A Game of Controlled Aggression". A percentage of the proceeds from this raffle will be added to this month's prize fund so, don't be a turkey this November and rack-em up!
December 1st-3rd • POV Pool's 6th Anniversary!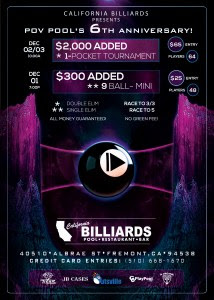 California Billiards in Fremont, is currently taking entries and will host POV Pool's 6th anniversary tournaments featuring, some of the best of California's talent-pool and, a few surprise entrants from other parts of the world. The 3-day event will kick off with a $300 added single elimination early evening '9 Ball' tournament and, followed by a 2-day, $2,000 added one-pocket tournament. No green fees and all monies paid out, you can download your entry form below or enter by phone with your credit card at: 510-668-1670. Celebrate 6 years of broadcast history with Point Of View Pool Media by tuning into POV Pool's YouTube Channel for this very special, free stream. We will also be raffling a very special 'Bobby Hunter Cue with 2 custom, Tiger shafts', a couple of JB Cases from John Barton and some Great White Chalk, compliments of Outsville, Inc.
December 16th • The 1st Annual $1,000 Added – "Tiger 8-BRAWL!"
Taking Entries! Heads-up, '8 Ballers'; Sharky's Billiards in Lancaster, California is celebrating its first year of new ownership by pool enthusiast, Ray Cruz and he would like to invite everyone to play a new, annual tournament brought to you by, Tiger Products. The Sharky's venue comes complete with hot food, bottled and tap'd beverages with, 18 Gold Crown 1's and 2's. Tiger Products is gifting a 'Traveler Series Cue' and other accessories while, Outsville is bringing in Accu-Racks and Great White Chalk to the table, giving everyone at the venue a chance to win some cool gear. Open to 64 players, this will be a handicapped format, event with all the rules and criteria available at their